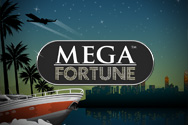 Today we have great news: On Monday night, a young man from Norway won a millionaire jackpot while playing on his tablet! He played a spin of €1.25 in Mega Fortune at Betsson and hit the €2,455,905 jackpot!
He is another Betsson millionaire, and everyone at Betsson sends a huge congratulations to him on his terrific win. When the Betsson's Team spoke to him he told them:
'I sat there on the sofa and was in total disbelief, but it was a wonderful feeling' and he continues, 'I have read about all Mega Fortune winners on Betsson. There's a lot of big winners there, and of course you start dreaming about winning a jackpot yourself.'
The jackpot win makes him now the 6th big jackpot winner so far this year – and we're only in March!
The attention has now turned to Hall of Gods where the jackpot currently exceeds €3.4 million. Try the game – who knows, you might become the next Betsson millionaire!
Feeling lucky? Visit Betsson NOW!