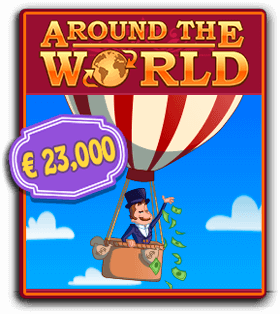 Around the World is a challenge that gives players the chance to travel the world and make a fortune – €23,000 or even more!
For every €400 that a player wagers between the 21st of February and the 14th of March, they receive one scratch card absolutely free – where they reveal international cities and cash prizes for that city.
Players track their progress on a beautiful, old-world style map and see how many cities, countries and continents they've travelled to. Around the World is an excellent way to have fun, adventure, thrills and positively huge cash prizes.
You collect more scratch cards by playing your favorite games, and you can win €23,000 – and even more.